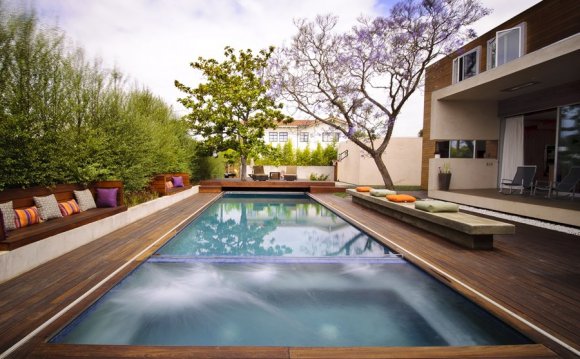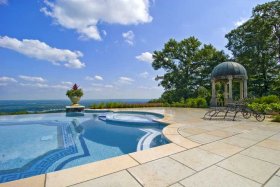 Explore pictures of award winning inground pools NJ & swimming pool landscaping ideas; view design ideas that may help you achieve your ideal backyard oasis.
On-staff NJ Licensed Landscape Architect Bill Moore and Cipriano Landscape Design owner Chris Cipriano work together to maximize the potential of your property with the most innovative swimming pool and landscape design ideas. Luxury amenities available for your swimming pool & landscaping include 350 ton waterfalls, hand cut iridescent glass tile mosaics, faux stone grottos, volcanic fire pits, fiber optic floor lights, and exquisite outdoor kitchens. Every one of Cipriano's unique swimming pool landscaping ideas is inspired by the incessant desire to create a lavish outdoor environment rivaling world renowned, five star hotels right in the comfort of your own back yard.
Please take time to review the pictures of custom swimming pools, landscaping, and outdoor kitchens in the featured Project Picture Section. View photos of projects featuring our most imaginative design ideas as they are showcased in the portfolio area. All of the ideas can be customized to fit your personal landscape or swimming pool design goals for your property. These designs have earned sixty design and construction awards since 2006 for custom swimming pools, landscaping, and outdoor kitchens. Browse the gallery, with more than 500 pictures, and we're confident that our landscape architecture department's award winning ideas will inspire you to create a personal luxury resort in your back yard!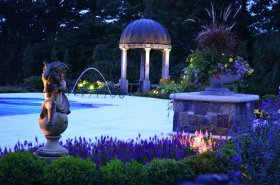 Location: Kinnelon NJ
Elements: Complete swimming pool renovations and remodeling, formal spa, Limestone patio, full outdoor kitchen, sun shelf, fiber optic deck jets, fiber optic star lights, landscape lighting and planting.
Description: This backyard oasis provides everything you need to relax and enjoy a world-class vacation without ever leaving your home. The formal infinity edge pool and landscape design features iridescent glass tile with intricate patterns, an in floor pool cleaning system, fiber optic in floor pool lighting, an antique gazebo, fiber optic deck jet fountains, a Tuscan garden design, a cool Limestone patio, a full outdoor kitchen and grill, and much more. All of this, combined with a view you can't put a price on, makes this property very worthy of its spot here on our featured list of custom pool and landscaping projects.
Location: Mahwah NJ
Elements: Swimming pool, raised spa, patio, outdoor kitchen, fireplace, fire pit, sun shelf, waterfall, waterslide and planting.
The following luxury outdoor living area earned an NJNLA Landscape Award and features an impressive natural waterfall. The patios feature Tennessee Crab Orchard, bluestone, a fire pit, and steps leading up to the raised spa located behind the swimming pool. The custom swimming pool itself features the natural waterfall, a sun shelf for relaxing on a beach chair in shallow water, and a wrap around water slide. The outdoor kitchen is fully stocked with everything you could possibly need to entertain a large party.
Next to the outdoor kitchen you can find an outdoor living room with a custom outdoor fireplace. The outdoor living room's unique design separates itself from the rest of the patio by incorporating sand stone tile patterns rather than bluestone. The outdoor fireplace adjacent to the dining patio contrasts beautifully with the fire pit that lies within the mountainous lake paradise created by the landscape and inground pool.
Location: Saddle River NJ
Elements: Swimming pool, spa, patio, 2 waterfalls, outdoor kitchen, natural koi pond, fountain and large boulder retaining wall.
Description: The Saddle River property is one of our most notable award winning pools, earning the Best In Competition Award from the North East Spa and Pool Association, a Silver Medal from the Association of Pool and Spa Professionals in their International Awards of Excellence competition, and more. The waterfall design itself is unique in that all the angular stones were placed vertically rather than on their side, mimicking the natural stone outcroppings of the Palisades overlooking the Hudson River. The pool design features one waterfall flowing in and the other flowing out over the infinity edge. The outdoor kitchen features a koi pond/stream directly behind it so, when you are cooking, you can enjoy the sights and sounds of nature just a few feet away. The pool falls off the natural vanishing edge into a large collection basin that recirculates the water. When sitting in the pool or spa it looks like the water falls off into space creating a nice effect. The natural vanishing edge is also designed to fall next to the dining patio to create a perfect backdrop for a social gathering.
...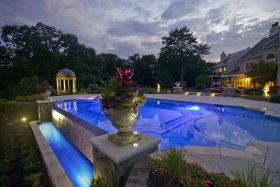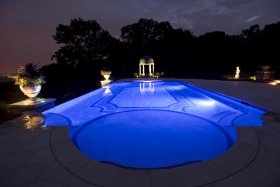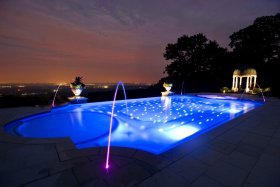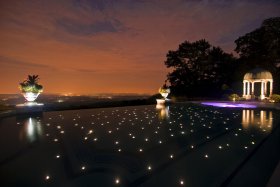 Source: plantnj.com
Share this Post