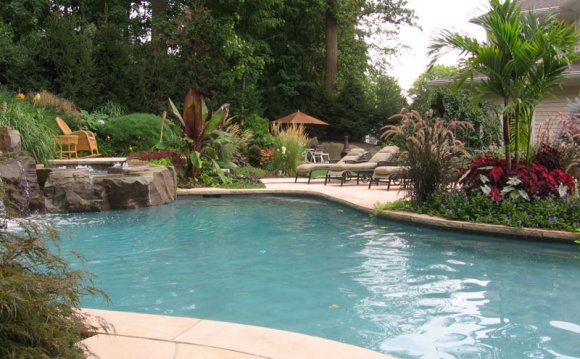 If you're thinking about adding a swimming pool to your property, or if you're already the owner of a pool and want to make it more attractive, here are a few landscape design ideas that will help you make your pool a visual asset to your home.
Want to make a landscape plan for your pool? Consider your swimming pool to be a bull's-eye in the center of a dartboard with four rings. Even if your in-ground or above-ground pool isn't built in the shape of a circle, the landscaping surrounding your pool should radiate outward. If you think of these layers around the perimeter of your pool as "rings, " you can draw up a plan that treats each ring as a distinct part of a whole. Your first ring is the immediate area around the pool. The second ring is a transitional area. The third ring can hold gardens or plants, and the fourth ring can be a separate space such as a patio or deck or it could be left natural.
If you've got an in-ground pool, this first "ring" around your pool is probably a hardscape area – such as a concrete border or patio that immediately surrounds the pool. An easy way to beautify this space is to use two or four dramatic, oversized potted succulents that require little maintenance and won't shed loose leaves or other debris into the pool water. As you radiate out to the second "ring" around your pool, keep in mind what you use this space for: Is this a concrete or brick area where your lounge chairs and umbrella table reside? Or is this space natural – yard, woods, trees, etc.? If you're looking to organize or emphasize this space, you could plant blue sapphire cypress trees in this ring to create a wall of privacy. Or perhaps you'd prefer to have this ring transition to a formal garden.
Above-ground pools don't have to be an eyesore. The key is to integrate the pool into its surroundings and tie it into the style of your home and landscaping. For example, if you can afford to add hardscapes to the first "ring" around your above-ground pool, you might consider constructing a deck that covers the exterior of your pool and also acts as a transitional area to which the rest of your yard can connect. If dealing with a limited budget, consider painting the outside of your pool walls to blend better with the environment and plant short shrubs around the outside of the pool to minimize visual intrusion.
Source: www.hgtv.com
Share this Post