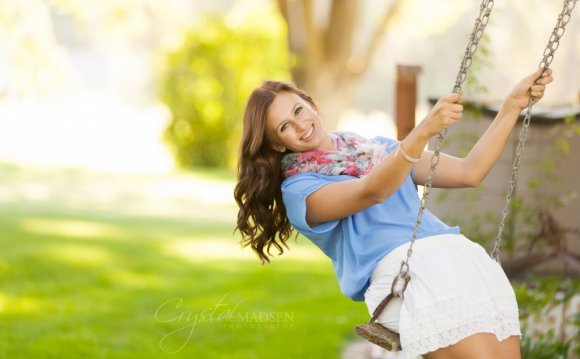 With my very first digital SLR there was a sigh of relief, everything was going to be so much easier now and I didn't have to think anymore.
You know the scenario; you pull the camera out, charge the batteries, go for a walk around the house and down the street taking the same pictures you have taken every time a new camera came into your life. "This is great!" you think to yourself, "this is going to make my life so much easier!" I was wrong… In fact, I was dead wrong.
There are three very simple things that improve all photography, including portraits. To this day, there is no trick I have found that replaces the need for proper exposure, white balance, and sharp focus. Today's digital cameras have less exposure latitude than a roll of Kodak gold film. In-camera metering systems have become much more advanced, but the sensors still lack the seven ƒ-stop exposure latitude that negative film has.
1) Never select all of the focus points for portraits, pick one.
When you pick the autofocus option that allows the camera to select focus points, you are doing your portraits a terrible disservice. This feature of a camera is usually designed to pick whatever is closest to the lens and focus there. In some cases, like with my 1DS Mark III, the camera will choose a cluster of focus points and make a "best guess" based on averaging the distance between all of the chosen points. Using one focus point gives you, the photographer, ultimate control.
2) Always focus on the eyes.
The eyes are the windows to the soul, and should be the focal point of any good portrait. Not only are the eyes the most important part of a good portrait, but they are the sharpest element on the face and should be left that way. When you are shooting with a wide aperture value focused on the eyes, the lens's bokeh will aid in softening the skin as well.
3) Shoot wide open for shallow depth of field.
There are quite a few reasons to invest in a fast lens capable of wide aperture values; the most common is for shallow depth of field. Now that you can shoot at ƒ2.8 or ƒ4 you should use it. Most fantastic natural light portraits are from wide aperture values and it is all because of the wonderful smooth background blur we call "bokeh".
4) Never, ever, shoot a portrait at less than 50mm; try to stay at 70mm or higher.
The last thing you want to hear from a client is "Why does my head look swelled?" Any focal length below 70mm can distort your subject, however it doesn't become very noticeable until you are below 50 MM. The compression effect of a telephoto lens will also increase the blur of bokeh. Most of my portraits are done between 120mm and 200mm.
5) Always shoot in RAW.
A thousand times these words have bellowed from my mouth, and it will surely come out a million more. Raw is an unmodified compilation of your sensors data during the time of exposure. It is your digital negative. When you shoot in JPG format, everything but what the image processor needs to make a shell representation of the image you intended to capture is stripped away. For every edit you make to a JPG, you lose more data. With RAW, you can make a vast range of edits before creating the JPG. How can this make you portrait better? Think about the last time your white balance was set incorrectly, and you tried for hours to remove the color cast only to destroy the image with every attempt. RAW would have saved you by allowing you to fix the color before opening the image for retouching.
Source: digital-photography-school.com
Share this Post