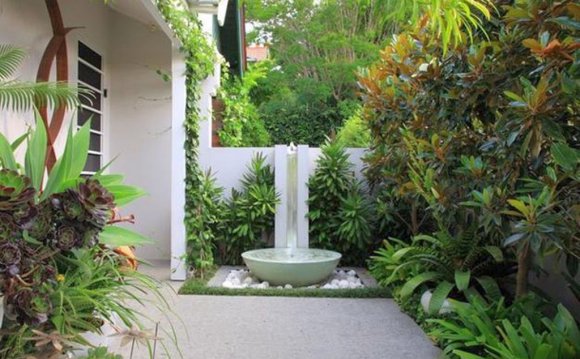 Terra cotta pots filled with citrus trees, roses, lavender and decorative foliage turned this little patio into a veritable plantation. "If you want trees" says landscape designer Deborah Gliksman, "look for specimens that will stay small. There is a wide selection of patio trees – everything from Japanese Maples to Crape Myrtles. Just be sure to check the label for mature growing size before you buy."
Scaled Furnishings
"It's important to keep your plants and furniture scaled down if your space is small, " says Gliksman, "but that doesn't mean that everything has to be puny. Sometimes a well-placed piece of larger furniture can set the mood." The floral-upholstered chair in this little patio was found in an alley. When not in use, it's covered by a tarp to keep it dry.
Maximize Space
When space is as tight as it is on this 11-foot-wide terrace created by Outhouse Design, attaching benches to a wall is a great way to maximize space. An array of pillows adds color and comfort, and metal art on the back wall adds visual interest to the long, narrow space.
Unique Look
A reclaimed door, installed over a standard issue portal, adds visual interest to this urban patio by Jeffery Erb Landscape Design. Salvage yards, architectural-antiques dealers and eBay are good sources for vintage pieces like these to add distinction to your own space.
Built-In Fire
You don't need a vast space for a fire feature. Architect Kimberly Goforth, AIA, simply had a hole cut in the concrete slab flooring of this small patio to create a wood-burning fire pit – the perfect place to warm up or roast marshmallows on a chilly evening.
Burst of Color
The bright orange back wall adds distinction to this space at the far end of a garden designed by Mark Haynes, Allied ASID. When choosing paint colors for outdoors, consider what the garden will look like in all four seasons, and make sure the hue you select will complement nature's palette all year long.
Modern Space
Chair cushions in the same shade of green as the surrounding trees help this small patio by Patricia Warren of Warren Architecture, LLC, feel like an integral part of nature. Strong geometry, seen in the limestone paver pattern, the openings at the top of the newly-installed wall, and in the muntins of the French doors, make it feel fresh and modern.
Double Impact
Visually doubling a space with a mirror isn't an indoors-only trick, as designer Michael Tavano proved on this small patio in New York City. If you're thinking of mirroring your own outdoor space to create the illusion of greater depth, be sure the mirror's frame is weatherproof, and that the wall you're hanging it on is strong enough to support it.
Alone at Last
No matter how small your patio is, you can turn it into a relaxing haven. A cedar screen and plants offer privacy in the outdoor space garden created by designer B. Jane. A sinuous lounge chair provides the perfect perch for reading and relaxing. And don't forget, says Jane, "side-tables are just as important outside as they are inside for easy access to your beverage, book or tablet."
Funky and Fresh
If you can't go grand, go funky. Designer Melissa Mascara used a vintage tub as a planter on this teeny-tiny (120 square feet) patio in Venice, Calif. Succulents and spiky plants lend a Dr. Seuss-like vibe.
Think Vertical
If you're working with limited square footage, don't be afraid to design upward, incorporating the walls to add interest to a small patio. On this terrace designed by Jeff Tohl, a fireplace hearth made of raw industrial panels serves as a stunning focal point for the contemporary seating area.
Tiered Design
A tiered design can add dimension to a petite patio, as well as defining areas for seating, dining and other uses. Here, a mix of wood and slate, married with plant materials of contrasting color but similar tones, creates four levels of interest in this small space.
Tranquil Elements
A simple, soothing design is often ideal for a small patio, as overly elaborate decor may overwhelm the space. In this urban Zen garden designed by Joan Grabel, mature bamboo adds privacy, while the cool colors of Bluestone, Agave and Echeveria bring tranquility to the space. Water from the basalt fountain, hitting the aqua pebbles below, adds to the meditative mood.
Romantic Details
A few well-placed, luxurious accessories can add a hint of grandeur to a tiny outdoor space. On this brick patio, decorative columns, lush plants and a chandelier suspended over the dining table create a secluded, romantic retreat.
Space-Saving Built-Ins
When designing the patio of HGTV Green Home 2011, Linda Woodrum managed to squeeze in a gas fireplace by building it into a narrow wall faced in thin-set brick. Two contemporary-style sofas upholstered in durable Sunbrella fabric flank two industrial-style coffee tables for a cozy conversation area.
Define Key Areas
Three clearly defined spaces — a dining area, lawn and plantings, and a woodland beyond — eke a lot of function out of a relatively small amount of urban real estate. This design by Sara Jane Rothwell features walls, screens, levels, pathways and trees, creating a relationship of horizontal surfaces in distinct areas of the yard.
Multipurpose Patio
Even with limited square footage, this Mediterranean-style rooftop patio manages to act as a lounge area, a dining space and an herb garden all in one. Opt for smaller furniture and scaled-down planters to maximize your outdoor space.
Minimalist Approach
Space is at a premium in this urban garden, so designer Sam Joyce cut the clutter with built-in seating and just enough plants to make a statement. He left room for additional chairs to be brought out from the house when necessary.
Diagonal Design
In this courtyard patio, natural stone pavers laid out in a diagonal pattern make the space appear much larger than it is. The built-in benches are anchored in the landscape, so they don't take up valuable patio space.
Outdoor Bath
If your patio is too small to accommodate a crowd of people, consider creating a more personal retreat. Designer Jamie Durie turned this small patio into an outdoor bathroom complete with a vanity, shower and Japanese soaking tub. A large mirror reflects the facing vertical garden, making the space feel like it's surrounded by nature on all sides.
Source: www.hgtv.com
Share this Post